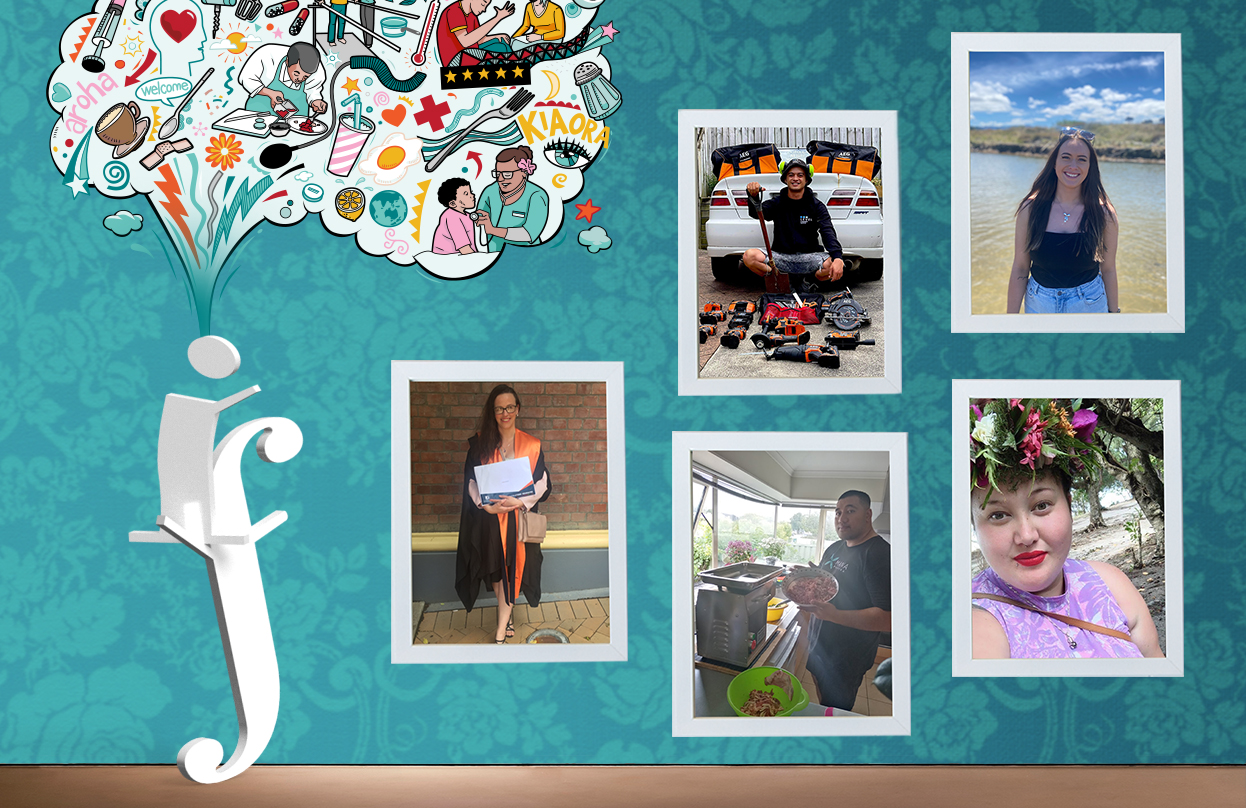 REGINALD TAMIHANA
Reginald is currently studying to become a builder. He is putting this grant towards his course fees at North Tech Whangarei. His dream is to start his own building company that will provide services to his iwi in Whangaruru, helping them build homes for families.
"Kia Ora, Ko Reginald Tamihana tōku ingoa, Ko Ngatiwai tōku iwi, kō Whangaruru ahau. I began the New Zealand Certificate in Construction Trade Skills (Level 3) - Carpentry in 2021 at North Tech in Whangarei. In the future, I would like to be able to provide housing for not only my whānau but also for the wider community. Receiving the MOPSA funding award allowed me the opportunity to purchase the tools I need to achieve my goals and begin to make a difference faster than I imagined. Thank you MOPSA for this amazing opportunity to upskill."
MATTHEW MALAMA
Matthew faced a lot of uncertainty through the pandemic, which made him reconsider his career and what he really enjoyed doing. That ended up being cooking! 
He is now working on perfecting his family steamed pork bun recipe and is currently selling them each Saturday. This grant will help him bring his business plan to life and hopefully his pork buns into a supermarket near you!
"We're so excited to pursue our passion of baking our Pasifika delicacies at home for years, and with our steamed buns we've put our all-consuming attention on quality. Adding a modern twist to our beloved keke pua'a (pork buns) and keke mamoe (lamb buns). The MOPSA grant has meant we are able to get equipment to streamline and expand our business so that we can provide you with the best of our buns!"
LOUISE MACKIE
A Mum of two 14-year-old twin boys, Louise was inspired by the positive effect that her children's teachers had on them. After some restructures that occurred in her industry at the time, she decided to take the leap and retrain, and return to university to become a primary school teacher. This leap was also motivated by a goal of giving back to the tamariki in South Auckland.
 "I'm looking forward to getting into my second year of studying to be a teacher; being closer to achieving my dreams of giving back to my community through educating and supporting our tamariki on their learning journey. Thanks to Instant Finance and the Makers or Possible Study Awards it's going to be that much easier. Thanks to the generosity of the award I can focus on my studies and not have to worry so much about the money side of studying."
MA'TARIA PEKEPO
Ma'taria is using her Makers of Possible Study Awards grant to enrol in a business management course at Otago Polytechnic. Her long-term goal? Starting her own business that makes Pacific Island-inspired clothing and accessories, all hand-made by her. 
"I'm extremely grateful for the MOPSA awards! I am closer to achieving my goals, debt-free!"
ROBYN OLSEN 
Robyn is currently in the middle of studying for a Bachelor of Business and is the first person in her family to achieve university entrance and gain a higher education. She will use her Makers of Possible Study Awards grant to pay for her second year of study!
JENNIFER MITCHELL
A Mum to two children, Jennifer is working part-time while studying to gain her Diploma of Nursing. She will use this grant to upskill as a registered nurse and kickstart her career in the healthcare industry. 
"Thank you so much for choosing me as a recipient of the Makers of Possible Study Awards, I'm truly grateful & it will certainly make my first year a lot easier knowing I don't have the extra stress of study costs on top of everyday living to deal with on my own. I am very excited to begin another study journey to upskill myself from an enrolled nurse to a registered nurse."
JADE TERRY 
After working for Oranga Tamariki, Jade realised last year that she wanted to do more to help and support whānau, tamariki and communities. She has now enrolled in university and will be putting her grant towards a Bachelor of Social Work from Massey University. She can't wait to be pursuing her dream!
"I'm excited to be studying this year. The MOPSA grant has meant I am able to chase my dream to become a qualified Social Worker in my community. The grant has also meant I was able to get the required textbooks, without the extra added financial burden."
JORDYN COOPER 
Jordyn will be using this grant to gain her Level 7 qualifications and become an early childhood educator. 
The Makers of Possible Study Awards, or MOPSA, is our way of supporting the dreams of our community here in Aotearoa. Our chosen recipients have already made awesome strides over the last few months, and we're excited to see where they go in the future! If the Makers of Possible Study Awards sound like something you or someone in your whānau would like to apply for, keep an eye out for MOPSA 2022.
In the meantime, if you need a helping hand, contact us or come in-store for a chat. We have a network of 26 branches from Kaikohe to Dunedin, along with an online team ready to help you, so we're easily accessible and here when you need us.